5 Trading Strategies For Millennials To Build Wealth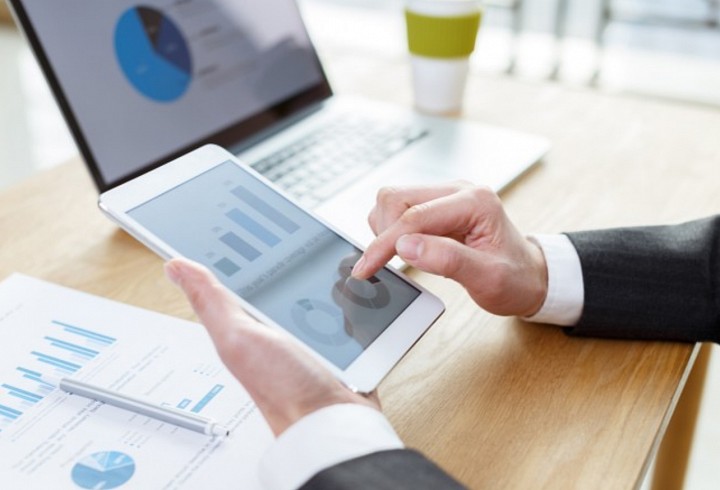 For those aged 20-40 or thereabouts, capital accumulation is likely to be the primary goal of your investment portfolio, rather than the capital preservation likely to characterize the final 0-15 years before retirement.

As such, having a higher proportion of your assets in higher-returning equities can make sense before shifting more into bonds and cash as you get closer to retirement.

Below I've outlined five example real-life portfolios on the WhoTrades Marketplace that could highlight how to construct an asset allocation best suited toward this goal.
Keep in mind, of course, that how you construct your portfolio will ultimately need to be based on your personal goals, risk tolerance, time horizons, among other factors.

Strategy #1
This particular trader runs a fairly concentrated portfolio.
"Zeitgeist" companies heralded for their ability to innovate and disrupt entrenched industries, such as Amazon (AMZN) and Google (GOOG), take up 55% of the allocation. Three stocks, when adding Microsoft (MSFT), take up 70%.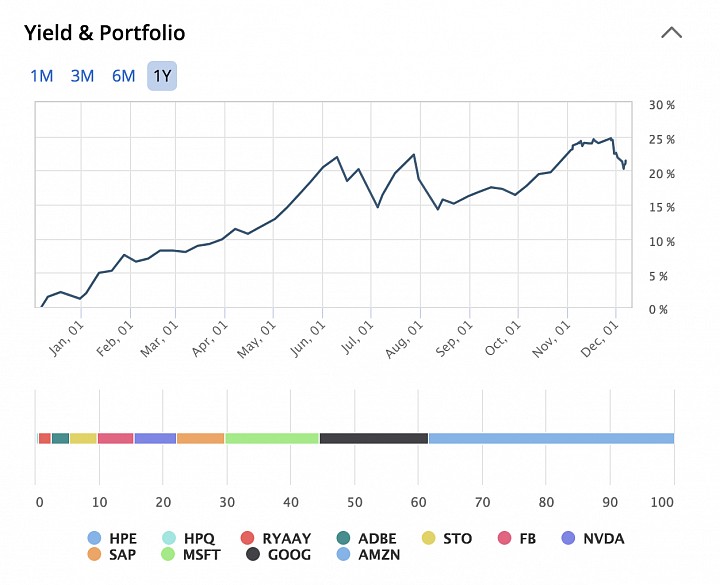 Betting on high-growth companies can lead to lumpier, uneven returns, but for someone with a 30-40+ year time horizon and using minimal or no leverage, maintaining a buy-and-hold approach could lead to higher longer-term returns.
This trader has made a grand total of zero trades during the course of the year. Buying companies (or securities more broadly) that you like and holding them over long durations of time can minimize the time burden of running a portfolio.
Moreover, it will also reduce commissions costs and the potential triggering of short-term capital gains taxes for holdings that were bought and subsequently sold in under one year.

Strategy #2
Here we see a similar approach: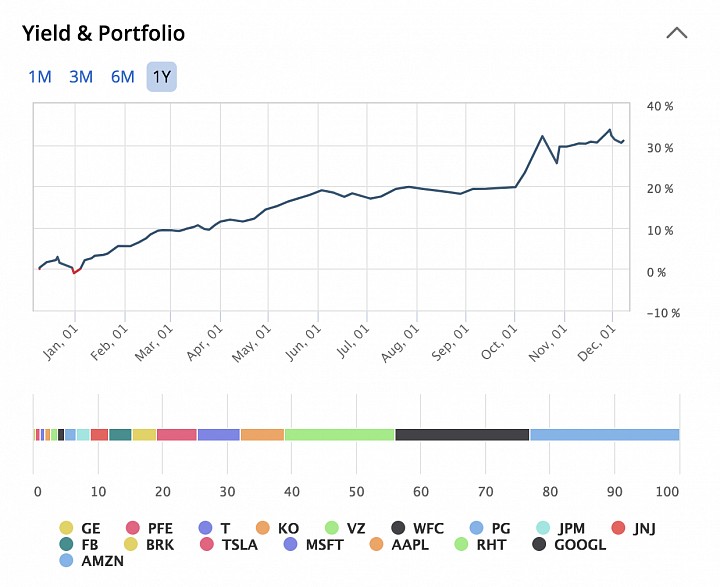 This trader has bet heavily on AMZN and GOOGL, in addition to software provider Red Hat (RHT). These three stocks consume over 60% of the portfolio.
High concentration adds risk, but putting more into quality companies and your best ideas while you're young can help you reach your goals more quickly.
The portfolio adds some exposure to banks, consumer staples, and telecom for some level of benefit from diversification.
Strategy #3
At the same time, having a mix of stocks you like and diversified exposure via ETFs is perfectly viable as well. Individual stocks are almost always more volatile than broad indices, which can give you greater potential to outperform the market, but at the expense of wider price swings.
This trader allocates approximately 40% of his portfolio to equity ETFs made to index to the S&P 500 (SPY) and Vanguard's growth (VUG) and dividend appreciation (VIG) funds.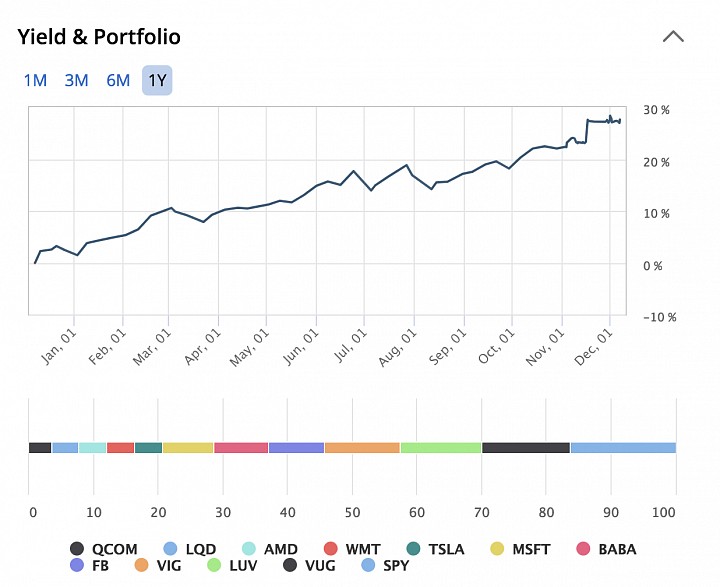 Moreover, this portfolio also has 4%-5% allocated to corporate bonds (LQD).
Given stocks and bonds typically move in opposite directions (though it depends), diversifying into bonds can help improve risk-adjusted returns and better one's portfolio performance when the economy lags. Fixed-coupon bonds can often outperform stocks in low inflation environments as it improves their real (i.e., inflation-adjusted) returns.
This trader fills out his portfolio with active bets on some of the more popular large-cap names on the market, including Facebook (FB), Alibaba (BABA), Microsoft (MSFT), Tesla (TSLA), Wal-Mart (WMT), Advanced Micro Devices (AMD), and Qualcomm (QCOM).
Strategy #4

This portfolio is constructed similarly: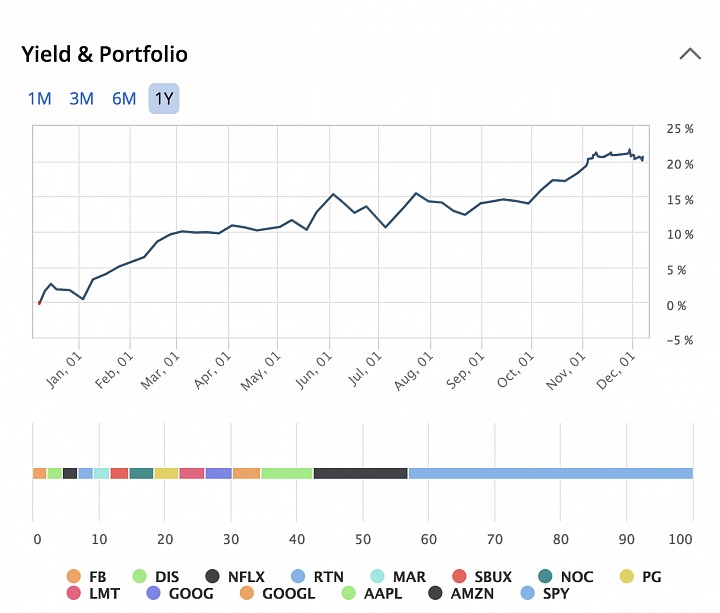 Clearly, this individual has stocks that he or she likes, but this portfolio hedges its bets to a degree by simply buying the market to consume 43% of the portfolio. The general thinking is that even if some of the individual bets go awry, some volatility will be mitigated by having substantial exposure to the broader market.
Apple and Google take up about 25% of the portfolio. The trader is also bullish on some of the more prominent defense stocks (LMT, NOC, RTN).
Strategy #5

Tech isn't the only sector to chase for the prospect of outsized gains. Healthcare and biotech are another option, particularly as demand in these sectors will pick up as the population ages in developed markets:
This portfolio sticks with mostly large-cap names, with a few smaller speculative bets. For those who do invest in the pharmaceutical, healthcare, and biotech space, avoiding smaller, unprofitable, and sometimes even pre-revenue biotech names is generally the best measure.
Bets are also made in energy and tech to provide broader equity exposure.
Conclusion
These real-life portfolios are not explicit recommendations but rather ideas for how younger traders and investors might invest in an equity-heavy (or equity-exclusive) asset allocation to focus on capital accumulation in the early going.
For those first starting to build up savings, putting most of this money into equities – with the anticipation of not needing it for 2-4 decades – can provide the highest overall returns.
Note that the stock market can be fickle, and sometimes portfolios like this can swing wildly in performance. But overall the market tends to rise over time, and with bond yields low, being overweight stocks and maintaining a buy-and-hold approach can yield fantastic results as you work to build up the portfolio in its initial stages.
If you have your own ideas on how to best approach portfolio construction – whether it pertains to asset selection, how concentrated to be, and other tidbits, please leave them in the comments section below!