The Marketplace's Most Followed Traders: What Can You Learn From Them?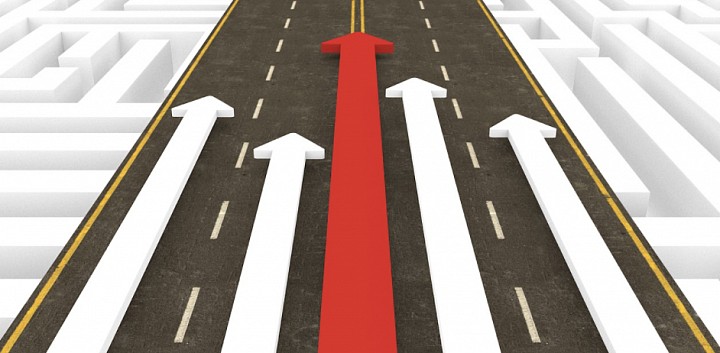 Those who have built up some following on the WhoTrades Marketplace have done so because, quite simply, they're making money based on what they've done or are currently doing.
Past returns are no guarantee of future returns, but it can be illuminating to check out what portfolios are generating high-double-digit or even triple-digit returns and how they're constructed.
Did these portfolios take advantage of 2017's cryptocurrency boom, short volatility, place leverage on tech stocks, or are they doing something more sustainable?
Let's take a look at a few:

Portfolio 1

High-yielding portfolios tend to be concentrated by nature. With nominal economic growth generally in the mid-single digits in developed economies, portfolios that diversify among multiple asset classes will tend to produce returns close to that figure over the long-run on an unleveraged basis. (The ebb and flow of credit cycles is the main cause of why returns often vary so heavily.)
In high-returning, concentrated portfolios, just a very small amount of the portfolio tends to be home runs while everything else, ideally, avoids losing money.
In this case, we have a portfolio that's 67% bitcoin and 33% Facebook (FB).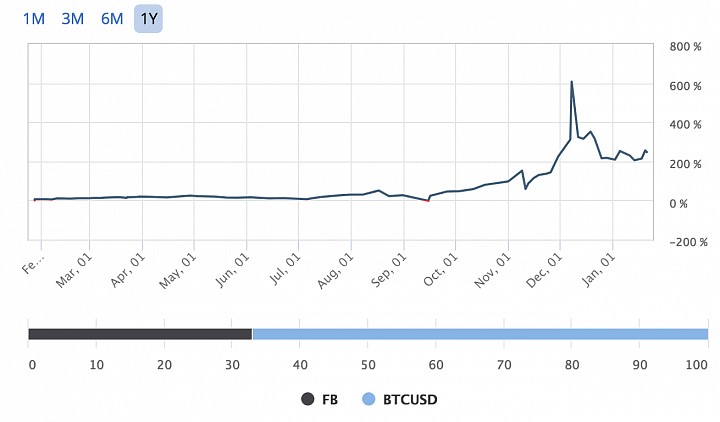 (Source: Portfolio 1)
Naturally, the gains are self-explanatory. Bitcoin has been up some 1,000%+ over the past year (though this percentage varies wildly day to day), while Facebook (FB) is up around 40% over the past year.
Before bitcoin futures contracts went live in December, this portfolio was up over 600% on an annual basis, but is now up some 250% with the dip in bitcoin's price.
That's still obviously a very good mark, but that's still a huge loss nonetheless. Speculating in cryptocurrencies is a personal choice that one has to make for themselves.
If we use Bitcoin Investment Trust (GBTC) as a proxy, its volatility over the past three years has been about 8x that of stocks going by daily volatility, 13x more volatile than the US dollar, and 19x that of mid-duration US Treasuries.
This volatility discrepancy is likely to compress a bit over time as the cryptocurrency asset class becomes more mainstream. Even so, without a straightforward pricing model for these currencies, the volatility will remain very elevated. With stocks and bonds, the standard valuation paradigm involves projecting cash flows out over the mid- to long-term and discounting these back to the present using some discount rate. With cryptocurrencies, these pricing models come in various shapes and forms, and some traders of course don't use valuation models at all or any form of analysis, and simply buy them as speculative assets.
As such, this portfolio has its risk almost exclusively embedded in bitcoin, given its about 4x more volatile than FB and outweighs its allocation by a 2:1 margin.



Portfolio 2
This portfolio specializes in trading volatility. Volatility was formerly an exogenous factor that told the backstory on a security or market's movement, but has become a common trading product in itself.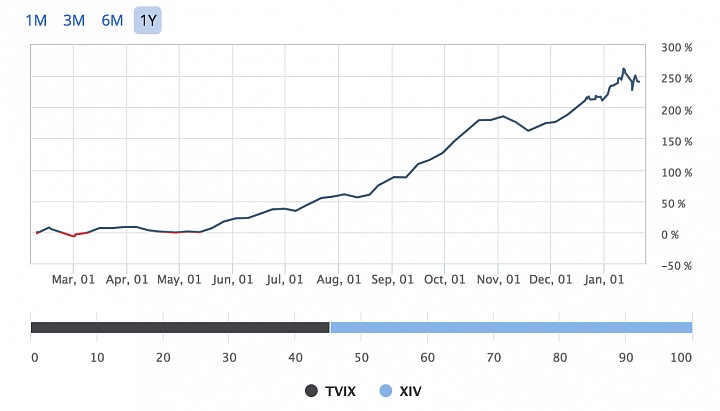 (Source: Portfolio 2)
Over the past several years, basically since the financial crisis ended in 2009, being long volatility (i.e., betting on volatility to rise) has been a losing strategy. 2017 saw a record number of days where the VIX closed below 10.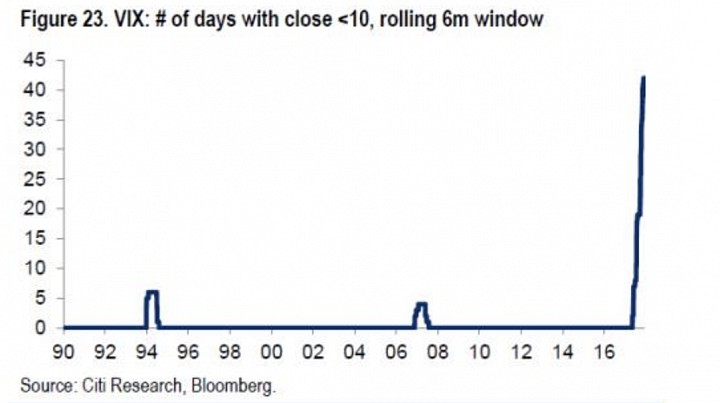 To get an idea of how profitable shorting volatility has been, over the past year this portfolio has yielded 241% with just a 13% drawdown.
Currently it maintains a mix of 55% XIV (reverse VIX, or the equivalent of shorting short-term VIX futures contracts) and 45% TVIX (2x long short-term VIX contracts).
This composition actually makes the portfolio net long volatility with TVIX being a 2x leveraged long ETN. Each product is based on the same index – S&P 500 VIX Short-Term Futures Index Excess Return – with TVIX being +200% this index and XIV being -100%.
So if this portfolio is unleveraged on its own, it's essentially the equivalent to being 35% net long this particular VIX index (i.e., 2x leverage on a 45% allocation long (minus) 55% allocation short). Accordingly, a lot of this portfolio cancels itself out.
The actual results will vary, however, as TVIX is designed as an intraday product. Leverage resets daily making it non-ideal as a long-term holding. So mathematically, even if the underlying VIX index does increase going forward, TVIX, a 2x product, will tend to underperform 2x this amount.
What will influence the success of this portfolio going forward?
First, it's important to recognize that the VIX/S&P 500 correlation is -0.986 since the VIX index was instituted in January 1990. So we know that it largely follows how US stocks perform, as "fear" drives equity markets down.
Stocks perform best in an economy that's growing at a reasonable pace with low inflationary and wage pressures. This means the Federal Reserve (and other developed market central banks) will have a vested interest in improving the liquidity conditions of the economy through low(er) rates and asset purchases completed by expanding the money supply.
Currently, the Fed is in the process of raising interest rates and running assets off its balance sheet (mostly US government bonds and agency-backed securities). This has the effect of contracting the money supply, which augments the risks of holding stocks and compresses risk premia.
Shorting volatility can still remain profitable as long as incomes in the broader economy remain sufficient to cover debts (as they do for now), but risk/reward dynamics are skewed down and will remain that way as valuations rise and liquidity conditions tighten.

Portfolio 3
This portfolio invests in stocks only and balances out the allocation to all 19 fairly equitably. It appears to use some degree of leverage, gaining 64% over the past year, with just a 9% drawdown from its highs.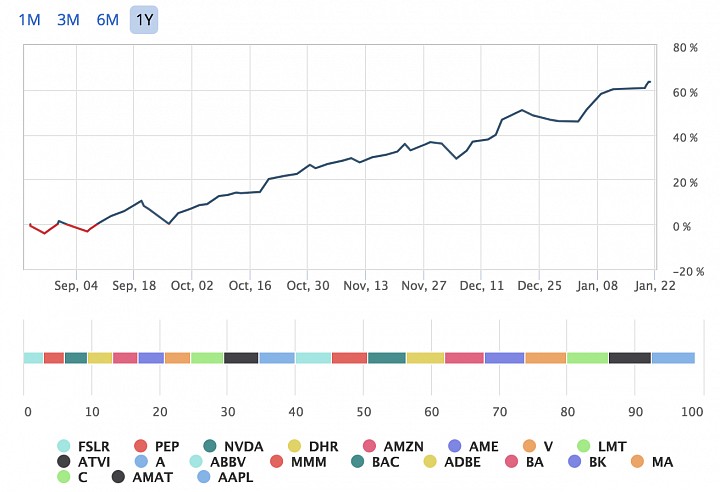 (Source: Portfolio 3)

This strategy is the most sustainable of the three, as it involves investing in companies that are likely to be profitable over the long-run.
There are many quality names in the bunch, including Apple (AAPL), Citigroup (C), Mastercard (MA), Boeing (BA), Adobe (ADBE), Bank of America (BAC), 3M (MMM), AbbVie (ABBV), Activision Blizzard (ATVI), Lockheed Martin (LMT), Visa (V), Amazon (AMZN), Nvidia (NVDA), and PepsiCo (PEP).
Over the long-run, at current price points, you can probably expect a portfolio like this to return about 5.0%-7.5% unleveraged. (Adding leverage to a stocks-only or stocks-heavy portfolio can be dangerous as stocks are already inherently leveraged securities – i.e., companies have debt).

Conclusion
In these three high-performing Marketplace portfolios, we see one that's bitcoin-heavy, one built by shorting volatility, and one that goes the standard route of investing into mostly blue-chip US stocks.
Portfolio 3 is the most likely to be viable over the long-run, as it invests in cash-producing assets. Cryptocurrencies are a zero-sum game where price movement occurs via converting one currency to another. There is no real wealth being created and no interest being paid for holding bitcoin and almost all other virtual currencies. Betting on volatility is also a zero-sum game.
That's not to say that trading cryptocurrencies or volatility is a bad idea – it can be a good idea if you know what you're doing. But these markets aren't likely to proceed in a long-term trend like the US stock market, which is expected to return an annual sum equal to a risk-free rate (roughly equal to US Treasury bond of some duration) and equity risk premium (compensation required to hold stocks over this "risk-free" asset).
Following one, two, or all three of these strategies on the WhoTrades Marketplace will provide you the opportunity to track their progress going forward.